In 2022 it is very hard to start blogging. Because there is very high competition. Publishing article on daily basics is not enough to grow your blog we have to do something new with time. That will make us unique from others.
So in this article, I'm going to share with you some blogging books which changed my blogging journey. At starting I was also thinking like others, that publishing 1 article daily, doing SEO, and much more. But After reading these books I understand the real meaning of blogging and its secret.
And today I earn $10k per month in this high competition, So you can also earn like this in high competition. And I also provide you the Pdf link so you can download it directly.
Befinites of reading these books?
When we start doing something the first question stuck in our mind is what will be our benefit from doing it? Is it worth it or is it's waste of time? So don't worry all these books are worthy for you. I promise you learn lots of new things in these books so read them with focus. So let's talk about these books' benefits.
First, you learn how to prepare 1-month of content in 1 hour. This means it saves you lots of time.
How to attract your audience to your blog post.
Some secret tricks to get more traffic to your blog.
What mistake you should avoid in your blogging journey? 
Why do 80% of bloggers fail in their blogging journey?
And so on…
Disclosure: Some of the links below are affiliate links, meaning that at no additional cost to you, I will recieve commission if you click through and make a purchase. For more information, Read Here
Top 7 Best Blogging Books list
Pro Blogger Secrets of Blogging
Content That Converts
Everybody Writes
On Writing Well
One-Hour Content Plan
Dotcom Secrets 
Traffic Secrets
So let's deep dive into it. And find out What will you learn from these books? And how these books will help you.
Pro Blogger Secrets of Blogging
Now if you are new at blogging and want to learn to blog, then this book is a treasure for you. In this book, the author teaches you step by step how to set up a 7-figure earning blog and how to do SEO, write blog posts, etc, Everything that beginners need.
When I started my blogging journey I also read this book and it's helped me a lot, this book clears my basics of blogging. So I suggest this book to every beginner. And If you don't want to read this big book then I made a blog on it where I have told all the main points of this book, So click here and read it.
Read Also: How to start a Money Earning Blog that Generates $10k Per Month
Content That Converts
Most bloggers fail in their blogging journey not because of SEO, they fail due to content. They do everything like SEO, backlinking, and guest blogging. But after doing all these things their visitors can't stay at their blog for a second.
And their user engagement goes down and if your user engagement goes down then google will not rank your website.  So this book is the solution to that problem.
In this book, you will learn how to write a blog post that attracts people and that people stay on your website for a long time.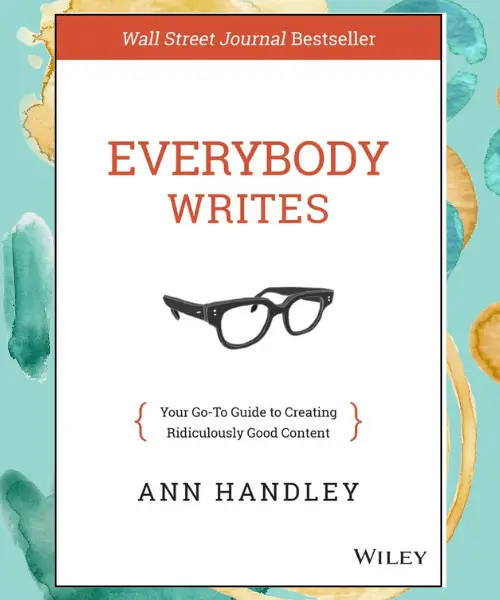 Everybody Writes
Today starting a blog is very simple anyone can start it in a few minutes. Today everyone can also write about it. But some big YouTubers say that only good writers can succeed in blogging and it is wrong.
This book tells you the truth about writing, this book tells you that anyone can write there is no need to be a professional in writing to start a blog.
So if you are frustrated about writing or think that you are not a writer then how you can start a blog? So this book will help you to solve all these problems and clear your doubts.
Read Also: The 7 Best Tips to make an article SEO friendly
On Writing Well
Everybody chooses a different niche in blogging according to their interest and if you don't know which niche is more profitable then read this article here.
But after choosing a niche they don't know how to write a blog post related to our niche. For example:- if you start a travel blog, and you write your blog post in 2000 words and do not add any images or videos.
Then tell me if people will read this or not. comment your answer below. My answer is not. Every niche has a different style of blog post. And we should know about them.
So this book teaches you different styles of blog posts like how to write a blog post for a travel blog, finance blog, cooking blog, etc. And I suggest this book every blogger must read it.
One-Hour Content Plan
If you want to start blogging or you had started it and you don't have much time to blog then this book is for you. This book tells you how you can create one month of content in one hour.
This means you can do your other work like jobs, housework anything. You don't need to spend 3-4 hours daily on blogging.
When I started my first blog I was in 12th grade and I don't have much time to spend on blogging. Because I had to study. Then I find this book and it totally changed my blogging schedule.
Today I spend less than one hour on my blog and earn $10k per month. Which means more money in less effort. And I will also share with you my earning proof below.
DotCom Secret
Traffic is the most important thing and problem for every blogger. If your website doesn't get traffic then you can't earn money from it.
Today I get around 500K+ visitors per month to my blog. And that is the reason I earn $10k per month. And your traffic decides your earnings. This means more traffic equals more money. So this book solves your traffic problem.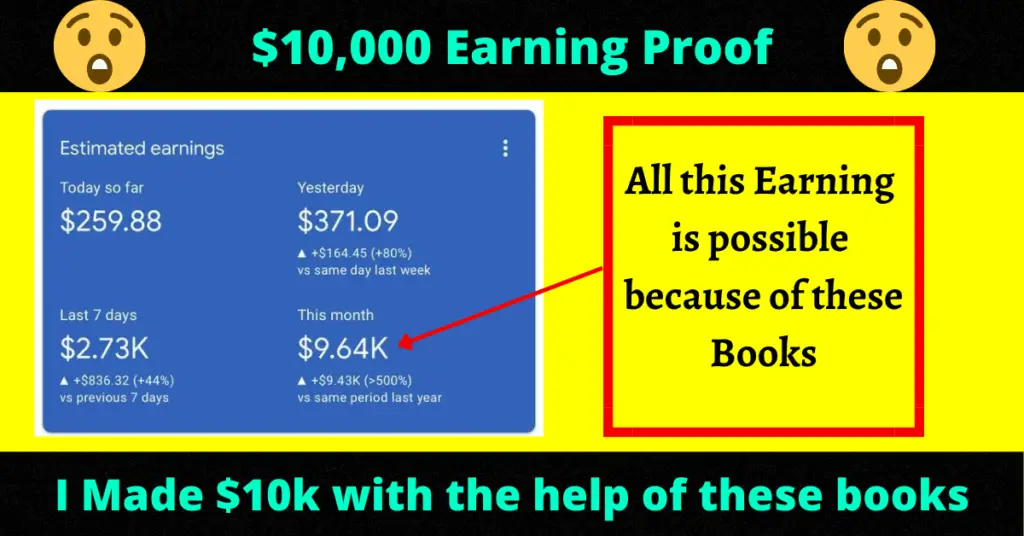 Traffic Secret
Last but not least one of the best books that I have ever read in my life is Traffic Secret. Every blogger thinks that google is the only way to traffic to your website.
But that's not true. You can get millions of traffic from other social media platforms like Youtube, Facebook, Instagram, etc.
And this book will tell you step by step how you can get millions of traffic from each platform. This book explains every platform in Detailed.
And also give you some secret strategies which are used by professional blogger. So if you read this book then you will never face traffic problems on your website.
Conclusion
Now I have given you the top 7 blogging books, which completely changed my life. And they will change your life also. And if you like this article then comment on your favorite book. Which book do you like the most? And also share this article with your blogger friend.
Frequently Asked Question
How do I start studying blogging?
Here are some books where you can start studying blogging.
1. Pro Blogger Secrets of Blogging
2. Content That Converts
3. Everybody Writes
4. On Writing Well
5. One-Hour Content Plan
6. Dotcom Secrets 
7. Traffic Secrets
How do I become a blogger writer?
If you want to become a blog writer then read "Everybody Writes" books. This book helps you to become a good blog writer. 
How do you write blog content quickly?
Ans. If you want to write blog content quickly then must read the "One Hour Content Plan" book. This book will teach you how you can create a 1-month content in 1 hour. It saves you lots of time.
How do you write a Kille Blog Post?
If you want to write a killer blog post then read "Content That Converts" book this book will teach you how you can write a blog post that attracts people. 
How do I write an amazing blog?
"Content That Converts" is the only book that teaches you how to write amazing blog posts. And completely change your writing style.