Hello, guys today in this article we are talking about the 7 most profitable blog niches of 2023. So this isn't a general article about choosing your passion and then creating a vegetarian knitting blog that makes you no money.
This article is about building a true business in the background of your life that raises your personal brand and changes your life.
So if you stay till the end I'll give you my exact framework to find the most profitable niches, sub-niches, and new product categories that you can rank for and profit from for years to come.
But before we get started I want to tell you something we have to provide a free ebook on blogging. This EBOOK teaches you, how you can make 30,000$ per month. So if you want it then comment below.
Read Also: Top 7 Blogging Books That Help Me To Earn $10k Per Month
What blog niches are more profitable?
So first of all we have to cover what actually makes a good niche. This is probably the most common question I got because bloggers are just starting and they actually have to choose what they're actually going to write about is it my passion is it my hobby it's my personal experience what is it I don't know what it is.
So what we have to think about first is the number one thing you don't want to pigeonhole yourself as a number. Don't choose something tiny that you're going to quit, don't choose something where you can only write 10 to 20 articles.
We want something that is broad enough that you can eventually write 100 articles maybe 200 articles over the course of some years. So it has to be broad enough that you can test different sub-niches with it and see what works based on the data.
So we want to start broader with your personal brand. So you don't have to like pigeonhole yourself to some tiny niche site.
Profitability Formula
So things that are very profitable are going to also be competitive. So think about like if you have a lot of search volume and you have a lot of revenue potential it's going to be very competitive.
So think of something like "best credit cards", it's searched a ton it's very profitable so that's why a brand like Nerd wallet is ranking for that and making tons of money millions of dollars, just ranking that.
So we have to find things that have up-trending search volumes that aren't too competitive yet we can still find pockets of success. Ultimately a blog is a mediator, so yes we can write about anything under the sun and try to make ad revenue.
But to make real money we have to talk about affiliate marketing and ranking for the best article. So now let's get into my 7 most profitable blog niches of 2023 which are highly profitable for beginners.
7 most profitable blog niches in 2023
1. IRA & Crypto
2. Highend Fashion
3. Outdoor
4. Tools
5. Indoor
6. Technology
7. Software
1. IRA & Crypto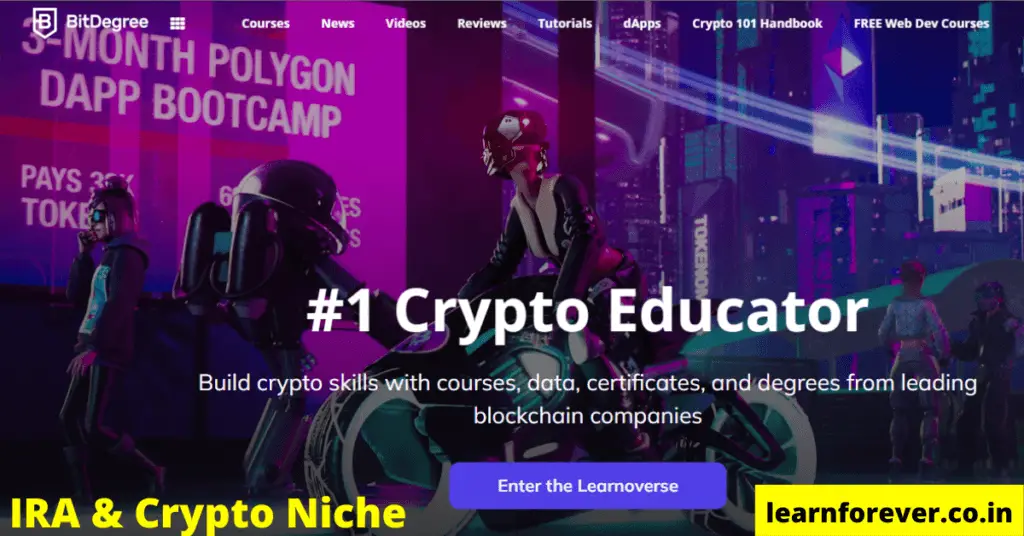 One on my list is IRA and Crypto. So think about IRA or retirement accounts you know people put money into a retirement account and people do it through affiliate links. If you google the best IRAs, the best crypto IRAs, the best gold IRAs whatever it is.
There are many affiliate sites ranking for those and think about making a 10% commission on a 500,000 retirement account that's 50 grand from the one you know affiliate sale and that's actually happened to me.
Read Also: How I rank my blog on google [My Secret Method]
I've ranked for IRA recently and you know we got like 10 affiliate link clicks and made 50 grand from it because it's just that profitable. So it's also somewhat competitive, but it's good to know about this stuff and try to get ahead of it.
And there are also other crypto opportunities, this site's Bitdegree section has things on the best exchanges, the best crypto wallets, and reviews of all the products and comparisons. So you can also write these types of posts on your blog.
2. High-End Fashion
Number 2 on my list is another highly profitable option for your high-end fashion. So we are talking about things like luxury watches, luxury handbags, and things that cost you know 10,000 plus dollars. So ranking for things like that can also be very profitable as well.
So here's an article like "60 best luxury watch brands to know in 2023", so set up the different brands. So you can click here and check the article, and you earn a very good amount of commission on it. I highly recommended you work on this topic.
3. Outdoor
Now, this is not super highly profitable, but it is a volume game. Because you can write about lots of different topics and it is very low competition. So let's look at some examples by using the Ahrefs keyword explorer to look up different keyword opportunities that we can rank for.
As you can see below in the image that the competition is very low in this niche and there are so many opportunities for you. And testing different topics like swimming, snowmobiles, hiking and camping, and many more. Try these things one by one.
Read Also: How to start a Money Earning Blog that Generates $10k Per Month
4. Tools
This is also another type of outdoor niche, but we have kind of shifted our focus a little bit. So what if instead of like the outdoor bear grills you know survival-type stuff with hiking survival, hunting all that, what if we came more to the home?
So think about the physicality where your niche lives we're outside, but we are a little closer to home.
So this could be things like gardening, power tools, lawnmowers things that home depot would have. There is lots of topic in this niche like electrician tools, kitchen tools, etc.
And you can write about lots of different tools. Or you can sell these tools online with your affiliate links and get a good amount of commission.
5. Indoor (Home)
So we are moving from the outdoor and moving inside of the home Indoor niche. What do people buy that's really expensive,
so if I think of kind higher or you know a volume game that we can play with an indoor niche? I would think of home goods things like furniture, so expensive new furniture categories.
So here's an article from decorhint.com on the 15 best modular sectionals, click here and check it and get an idea of how you can also write an article like that. And you can also review the top brands of furniture. This is a very good idea because people like reviews.
6. Technology
We know there are lots of technology vlogs out there and it can get somewhat competitive. But there are pockets of opportunity everywhere, so when I think about technology you might think of laptops and TVs and stuff.
But what about like camcorders, professional video equipment, audio equipment, and stuff like isn't as well known?
So here is a website bhphotovideo.com that sells all kinds of different things for videographers and photographers, including lighting, drone cameras, etc. Think about it that way then we start to find opportunities.
And you can compare products of different brands, and tell people which is best for buying.
Read Also: 7 Proven Methods to Get Instant Traffic to your Blog [2023]
7. Software
So number seven on my list last but not least is software this is the niche that I'm in. So software there may the main good thing about it is that it is periodic. So you can make money you get people to sign up for your affiliate link and then you can make a recurring commission every month which brings a lot of stability to your business.
You can promote web hosting, video editing software, photo editing software, and SEO tools like Ahrefs, Semrush, etc. It is also pretty competitive.
So you are going to have to get a lot of links you are going to do a lot of link-building to compete with this one. But it is good because there are a lot of new product categories out there.
Conclusion
So ultimately I recommend if you are a beginner the easiest ones to start with are things that are physical products things that are lower competition indoor and outdoor goods I'd love to see bloggers create a type of you know become the next well-known personal brand in the outdoor space or in the home design space.
And rank for a ton of different things in those niches those are easier to rank for there's a volume game you can write a lot of articles and you know it's not as competitive.
Frequently Asked Question
Q.1 What blog niche is most profitable?
Ans. Most Profitable blog niche of 2023
1. IRA & Crypto
2. Highend Fashion
3. Outdoor
4. Tools
5. Indoor
6. Technology
7. Software
Q. 2 What niches are trending?
Ans. Most trending blogging niches
Crypto
Finance
Digital Marketing
Education Blog
Affiliate marketing
Q.3 What is the hottest niche online?
Ans. The hottest niche online in blogging is Crypto & NFT blogs. These blogs are now many popular on the internet. Because people want to know about them more and more.
Q.4 On what topic you should blog about in 2023?
Ans. The 7 most profitable blog niches of 2023
Fitness
Technology
Software
Ecommerce
Crypto
People Also Ask For the:-